Hi, i have met a girl from agona swedru ghana by a dating site mate1.

we have been talking for almost one year now, but for some reason i cannot grow to trust her,she as sent me a copy of her pass port i need to know if its real. i have sent money for medical and visa.

now she needs 1200 pounds to open a bank account is this true so she can travel.pls help...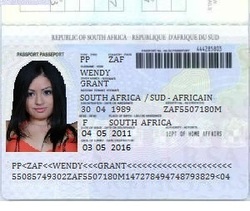 Hi `Ghana-Net.com`, this is a copy of passport, is it real?? and the postal address is,wendy grant, po box sw210, chaple square road, agona swedru, ghana. she tell me she is from south africa now living in ghana with her mum..

i hope she is telling the truth because we have now been talking for over one yr..she as just renewed passport for 5 yrs ? she says south africa are changing the passport in 5 yrs time is that true?...

i really want to meet this girl...thanks for your help stuart..