How sophisticated criminals are tarnishing the image of Ghana

---
Source: Public Agenda Ghana / February 11th, 2008

Dear Editor

A friend of mine narrated to me yesterday how two friends of hers, one a PhD holder and another a retiree who wanted to settle in Ghana were swindled of hundreds of thousands of dollars by some Nigerians based in Ghana.

The retiree has all his savings and pensions wiped out, while the PhD holder is in the red in the tens of thousands.

The retiree met the Nigerian duo in Accra and they struck his acquaintance. He told them he was in the country to settle and establish a business, and they took him to an office complex that they claimed they owned. Convinced, he returned to the US and started sending them money to furnish the office for him.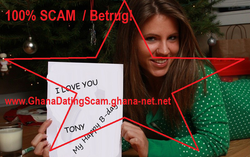 After sending some thousands of dollars, he decided to go to Accra to see how things were progressing. They met him and took him to an office fully staffed with a Secretary and other staff, as being his new office. They even showed him to his own office, elegantly decorated. (I can see you laughing now).

Trusting that he had finally found trustworthy people that he could work with in Ghana, he proceeded to send them tens of thousands of dollars to open a business account and start the process of getting a land for the construction of a factory.

After the guys got the rest of the money, he decided to visit Ghana once more to acquaint himself with progress of work on the site. When he went to the office, the whole place was bare, no furniture, no secretary, no workers, and his friends were nowhere to be found.

I am telling you this because it is easy for us to dismiss these criminal acts as acts of Nigerians, but the sad part is that, they are happening in Ghana, and not in Nigeria, and gradually, our reputation is being eroded and tarnished, because the authorities who are supposed to act, are asleep behind the wheels.

There was an instance when I received a very official notification through the mail from a supposed government company in South Africa, promising some fantastic ROI (Return on Investment).

I forwarded the mail to the South African Embassy here in Washington, D.C. They sent me an acknowledgement and immediately forwarded the mail to SA for follow up Within a week, four Nigerians were arrested and they are now in detention. That is what I call efficiency; not what is happening in Ghana.

Just look at this price notification originating from Ghana, replete with telephone number and other contact details. What do you think will happen to those who might fall victims to these scams.

Charles Ossa
Global Traders, Inc.
496 Powell Street
Brooklyn, NY 11212
---
---