Internet fraud makes some youth nocturnal
---
Source: Public Agenda Ghana / September 14th, 2007

- How old are you?
*** Am sixteen.
- Do you School?
*** Yes, am in JSS three.
- Have you ever made money through the internet?
***Well, not always. From time to time, he answers giggling.
- Like how much?
*** At times 100 dollars and at times two hundred.
- What do you do with the money? After another chuckle;
*** I give it to my mum. She saves it for me.
- So your mum knows about it?
*** She knows I go to the cafe. But she frowns upon it. She only takes the money from me because I would misspend it.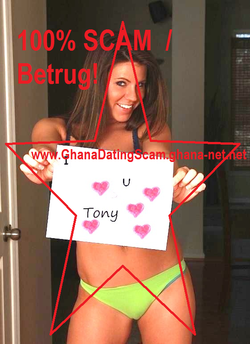 - Why do you engage in the act?
*** Just for fun, this time laughing with parted teeth.
- What, for fun?
*** Yes
- O.K. But some say they are only taking back what the white people took from their ancestors. Do you agree with that?
*** No, that`s not a good excuse

This is but a synopsis of a short and a warm-hearted conversation that ensued between this writer and a smart looking 16-year old in Accra, (name withheld) who engages in control, one of the two main forms of internet fraud that a considerable number of Accra`s youth have found a job in.

According to this 16-year old, whilst "Sakawa" is the use of stolen credit cards to shop online from western countries, "control" takes the form of dating scams where unsuspecting men are made to send monies down to supposed girlfriends. So, whilst Sakawa is usually popular among the relatively matured ones, the young boys, like this 16-year old, make due with control, which is less profitable.

To trap their victims, the prodigious but cunning young boys sign up to online dating and interactive websites like singlesnet.com, True.com, Blackplanet.com among others. They then disguise themselves as beautiful young women to their preys. This they do by searching and choosing from the array of pictures of international models and porn stars posted on the internet. Upon seeing such pictures, the victims, whose own morals are not without questions, usually fall in love head on.

Once such a relationship is established, chatting becomes a necessity in order to maintain them. So, from 11pm to 5am when Ghana goes to sleep, these supposed damsels prepare to meet their lovers across the seas on the internet.

It is a perfect time because it would be daytime in the countries in which their victims reside. After telling them all sorts of lies and making solicitations, the unsuspecting victims, whom they affectionately refer to as clients, begin to send down monies to their supposed girlfriends or would-be wives.

The victims are not done with until they have been lured into sending down huge sums of money supposedly meant to fare their lovers to them. Some do prove stubborn and unyielding and demand seeing a motion picture of their newly found love through the âwebcam, which is a mini camera that enables the two parties to see each other on the computer if connected to it. In such instances, the boys quickly arrange with a beautiful young girl who is made to appear on the webcam for the man to see her.

From Adabraka to Achimota, from Nima to Accra Newtown, internet cafes run twenty four hours, seven days a week; and their clientele are none but a teaming mass of the country`s youth.

As they deprive themselves of sleep, the questions that come to mind are what they do during the daytime. Are the students among them able to go to school the following morning? What about the workers, if any?
The illicit trade has however profited many, as it is an immutable fact that most of them now drive in expensive cars and revel in many other luxuries.

According to a website myzongo.com, The U.S. embassy in Accra, Ghana, reports receiving up to fifteen calls a week from Americans who have lost money on relationship scams originating in Ghana. Yet another website precisesecurity.com says ... a significant proportion of organized Internet Fraud seems to come from Africa, particularly Nigeria and sometimes from Ghana ¦.

Truly and without bias, the story of Internet Fraud in Ghana cannot be told without the Nigerian side of it. The heavy presence of young Nigerians in many suburbs of Accra where Internet Cafes abound is not in doubt.
Statistics from the Cyber Crime Unit of the Ghana Police Service indicates that about 40% of internet fraudsters apprehended between 2005 and 2006 are Ghanaians with ages ranging between 12 and 45 years.

The remaining 60% are Nigerians, Liberians and other nationals and the number of Ghanaians involved is rising sharply as the number of internet users increase in the country. A total of 401,300 internet subscribers was recorded between 2000 and early 2007, representing a 1237.7% increase over the period.

Some have attributed the rise in internet fraud to the absence of a cyber law in the country.

Head of Cyber Crime Unit of the Ghana Police Service, Superintendent Vance Baba Gariba in an interview with this writer said once that while the police service is on top of crime in the country, the lack of cyber laws is hampering efforts at arresting the situation.

He said organizing swoops on perpetrators or ordering Internet Cafes not to operate 24hrs can only be done when there is a comprehensive law in place.

Supt. Gariba believes if passed into law, the Computer Crime Bill, which is currently before cabinet as well as the Money Laundry Bill would help.


The Ministry of Communications on the other hand announced a couple of months ago the introduction of an Electronic Transaction Law to regulate the activities of Internet users, especially businesspersons.


The Head of Policy Planning, Monitoring and Evaluation at the Ministry, Mr. Issah Yahaya, said that the law would regulate electronic signatures, use of credit card and Internet communications as well as fight Internet or cyber fraud.
Mr. Yahaya said the law would deal with cyber fraud and other unscrupulous activities such as stealing, dishonestly receiving, forgery, conspiracy, charlatanic advertisement and access to protected computers.


At present though, while the aforementioned laws are yet to take effect, the crime is growing. Even worrying is the allure in there for very young people, including twelve year olds. A stitch in time ¦

Author: By Basiru Adam
---
---